HOME. HEALTH. HOPE.
Operation Home has been serving the Tricounty community for 24 years. Annually, we serve more than 550 families through our critical home repair, wheelchair ramp and heat and cold relief programs. Operation Home focuses our services on households with children, the disabled and seniors. The average monthly income for Operation Home families is $1,298. Operation Home collaborates with many area nonprofits, home rehabilitation facilities, social service agencies, and civic and religious groups. We are committed to ensuring that no person has to live in a home that is inaccessible or unsafe.
STAFF
Miriam Langley,
Executive Director
Miriam joined Operation Home in March of 2016. She came to Operation Home after 10 years of working with the Lowcountry Food Bank as their VP of Development and Communications. Miriam believes that Tricounty families should not have to choose between living in a home in need of critical repair, and often times hazardous to their health, and having no home at all. She is confident that through community support, Operation Home can bring hope to more people in need. Under Miriam's leadership, Operation Home remains focused on serving households with children, seniors and the disabled.
Joe Easley,
Construction Manager
Joe was hired in June of 2011 as the in-house Construction Manager for Operation Home. Joe's responsibility is to scope the project sites and prepare cost estimates, solicit the most cost effective bids for the work, and supervise the construction for the client. He also prepares drawings and material lists for handicap ramps and works with volunteer groups to ensure proper construction techniques are utilised. Joe has over 30 years of construction experience – having had his own contracting business for 15 years prior to coming to Operation Home and he also has a Business degree from the College of William and Mary. Joe's ability to correctly assess the cost of repairs, added with his sincere empathy for the home owners we serve, makes him an essential staff member.
Leah Donaldson,
Community Operations Manager
Leah Donaldson joined Operation Home in October 2015. While living in New York she earned a Bachelor's degree in History and Master's degree in Political Science/Urban policy and worked in non-profit public affairs and community outreach for NYC government. In the four years since moving to Charleston she has worked and volunteered in social service outreach and is committed to serving the Lowcountry Community. Leah is excited to be working for Operation Home's mission of a safe, accessible home for every person.
BOARD OF DIRECTORS
Operation Home relies on the support of our dedicated Board of Directors.
2021 Board Members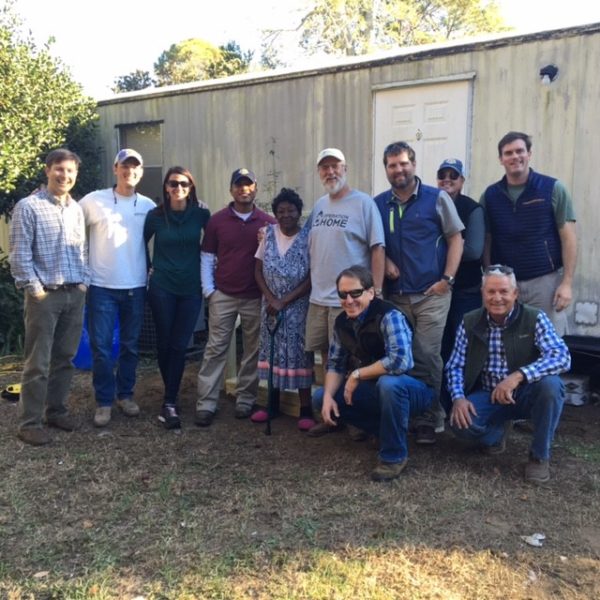 Shannon Williams, Boomtown, President
Jay Claypoole, Nelson Mullins, Vice President
Thomas Anderson, South State Bank, Treasurer
Shelby Greene, The Brandon Agency, Secretary
Anna Hamilton Lewin, Community Partner
Teddy Hendricks, The Beach Company
Ashley Holbrook, Boeing
Ben Liebetrau, Greystar, Past-President
Boo Morton, Abney Morton Interiors
Ed Royall, Brown Hiers Kinder, Past President
Champ Smith, Beach Residential
Phillip Smith, Phillip W. Smith Construction
DJ Van Slambrook, Middleburg